The best way to get to know a city is to spend a day biking through it. As Ernest Hemingway once wrote, "it is by riding a bicycle that you learn the contours of a country best, since you have to sweat up the hills and coast down them. Thus you remember them as they actually are, while in a motor car only a high hill impresses you, and you have no such accurate remembrance of country you have driven through as you gain by riding a bicycle." So ditch the gas-guzzlers and cue up the pedals for a self-guided biking tour of Grand Rapids that traverses the West Side to Uptown and back again.
Before you depart make sure to download the My City Bikes app for turn-by-turn directions and more local highlights. As well as bringing an appetite and a leisurely pace, don't forget to brush up on your bike safety at grdrivingchange.org. Featuring interactive quizzes, videos, and lists of rules for both cyclists and drivers, GR Driving Change helps keep cyclists safe and drivers accountable.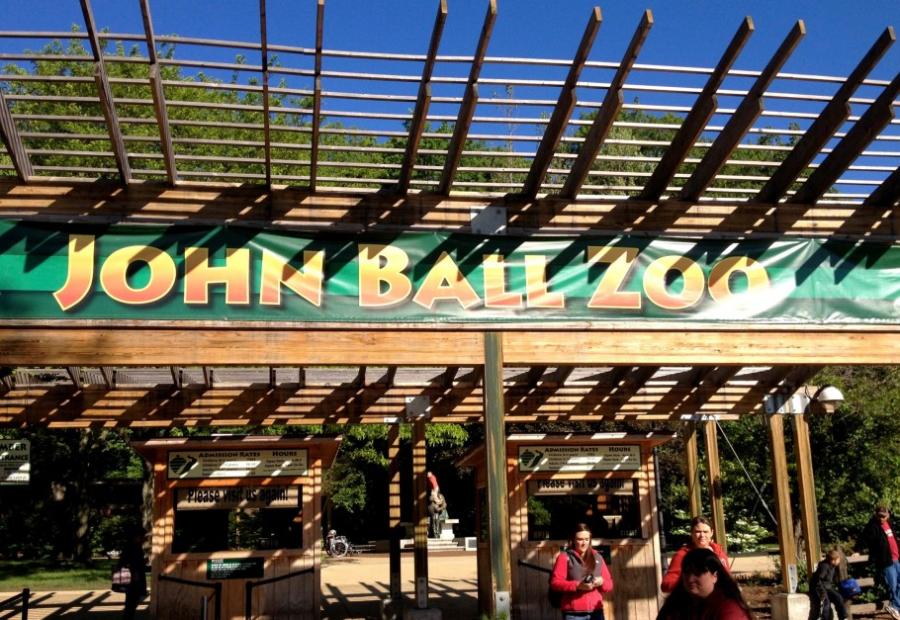 From its 600-foot Zipline and four-story Ropes Adventure course, to camel rides and toucans, John Ball Zoo provides fun for all ages.
Photo by Experience Grand Rapids
West Side
Start your ride at John Ball Zoo and the adjacent John Ball Zoo Park. With over 2,000 animals to see in a combination of indoor and outdoor exhibits, the zoo has more animal-touching exhibits than any museum in Michigan, creating a hands-on learning opportunity for kids and adults alike. The park is abundant with picnic tables, shade trees, and grassy areas perfect for picnicking and playing. There's also the can't-miss sea serpent sculpture in the middle of the pond.
Bike from John Ball Zoo to the Mitten State and New Holland Knickerbocker
(1.6 miles, about 12 minutes)
The ever-developing West Side is quickly becoming home to some of the best restaurants in Grand Rapids – and most of them seem to be popping up on Bridge Street. A dynamic mix of restaurants, breweries, storefronts, and dive bars bring together old Grand Rapids style with some newcomer's flare. Check out the Mitten State for Michigan-themed apparel, local sports paraphernalia, and general Michigander pride. Butcher's Union offers a mouth-watering dedication to high-quality meat and whiskey. New Holland Brewing Company's expansive Knickerbocker is always hopping on the weekend. The brewery is home to classic pub fare and a rotating selection of craft beers.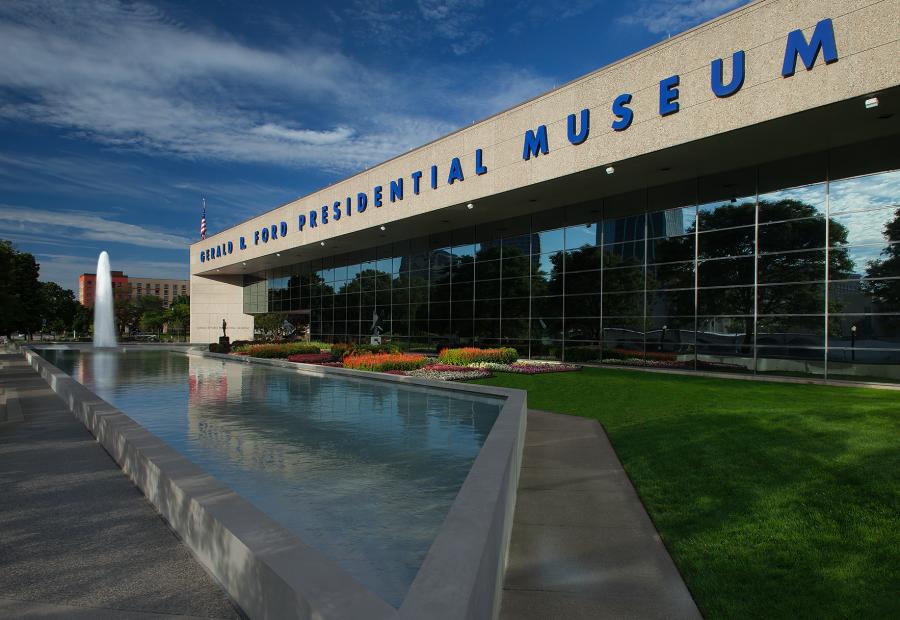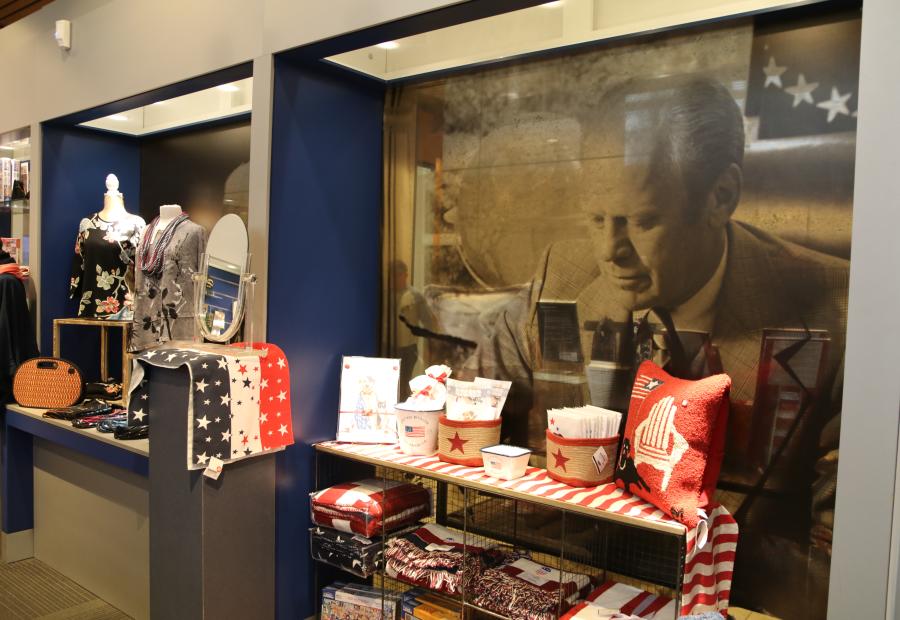 Visit one of downtown's many museums, like the Gerald R. Ford Presidential Museum, during your ride through downtown.
Photo by Gerald R. Ford Presidential Museum
Bike from The Mitten State and New Holland Knickerbocker to Gerald R. Ford Presidential Museum
(0.3 miles, about 4 minutes)
Downtown
From Bridge Street, head downtown to the Gerald R. Ford Presidential Museum. The museum dedicated to the 38th president of the United States is replete with interactive exhibits celebrating American history. Visitors can pay their respects on the grounds, as this is the final resting place of President Ford and Mrs. Betty Ford.
Bike from Gerald R. Ford Presidential Museum to Rosa Parks Circle
(0.5 Miles, about 6 minutes) ​
Rosa Parks Circle often feels like the unofficial hub of downtown Grand Rapids. From food trucks and concerts in the summer to ice skating in the winter, the park provides a gathering place for people from all walks of life. Both locals and visitors alike agree that this has become the unofficial heart of downtown Grand Rapids, as it was recently named one of five Great Public Spaces in America by the American Planning Association. Whether it's a temporary oasis in a bustling downtown or simply a favorite lunch break location, there's always something to see and someone to talk to. So rest your legs and stay a while.
At the Grand Rapids Art Museum, check out WOOD TV8's studio for the local news and take a stroll through the permanent and rotating exhibits. Although every Tuesday is free admission, it's worth the small price to wander the halls of some spectacularly curated art.
Bike from Rosa Parks Circle to Fulton Street Farmers Market
(1.7 miles, about 12 minutes)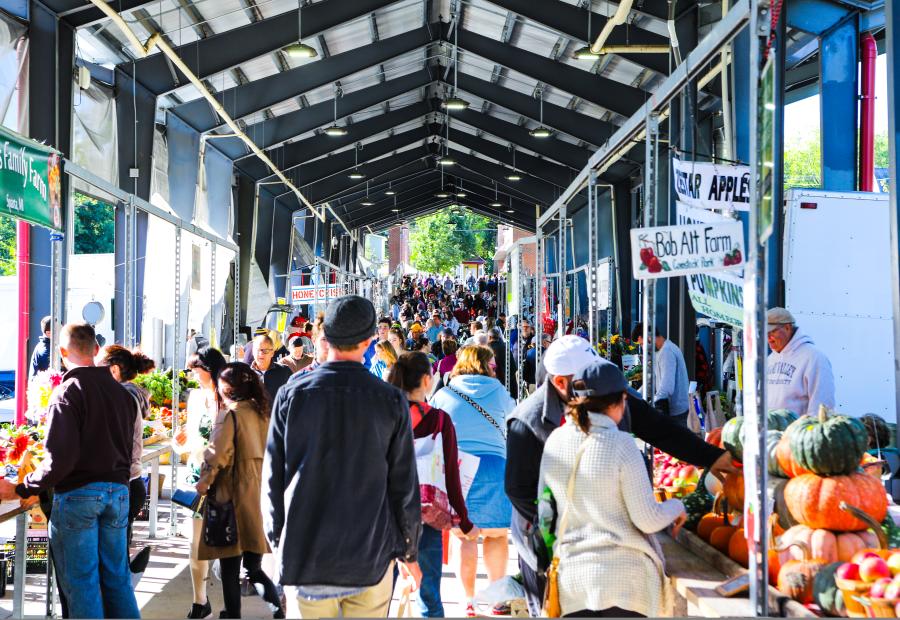 Purchase some produce for a snack at the Fulton Street Farmer's Market in Uptown.
Photo by Paul Jendrasiak for Experience Grand Rapids
Uptown
Now that your legs have had a little rest, head uptown to the Fulton Street Farmers Market. The market is open Mondays, Wednesdays, and Saturdays from 8AM to 3PM the first Saturday of May through the last Saturday before Christmas and open 10AM to 1PM on Saturdays January through April. Over 200 vendors and artisans display rows of local produce, baked goods, and fresh flowers, tempting the nose and the stomach. If it happens to be any other day of the week, check out Madcap Coffee's new Fulton Street location. Indulge in plentiful outdoor seating, wonderful roasts, and specialty coffee concoctions to ward off the fall chill.
Bike from Fulton Street Farmers Market to Eastown Antiques
(0.8 miles, about 6 minutes)
A visit to the East Side isn't complete without a stop into Eastown Antiques. The award-winning antique store has two floors of wares, ranging from furniture to jewelry to glassware and pottery. You'll find it all. Browse the old record collections or take in the vintage bar signs and accouterments. And never fear if you fall in love with something that doesn't fit on your bike – you can always purchase it and pick it up later.
Bike From Eastown Antiques to Donkey Taquería
(1 mile, about 8 minutes)
Post-Eastown Antiques, stop in for some refreshment at Donkey Taquería, a place that is as well known for its margaritas as its tacos. Offering creative Mexican cuisine and (arguably) the city's best guacamole, it's a can't-miss stop on the city tour. Don't be thrown off by the lack of the sign. If they advertised it, there would be no seats at all.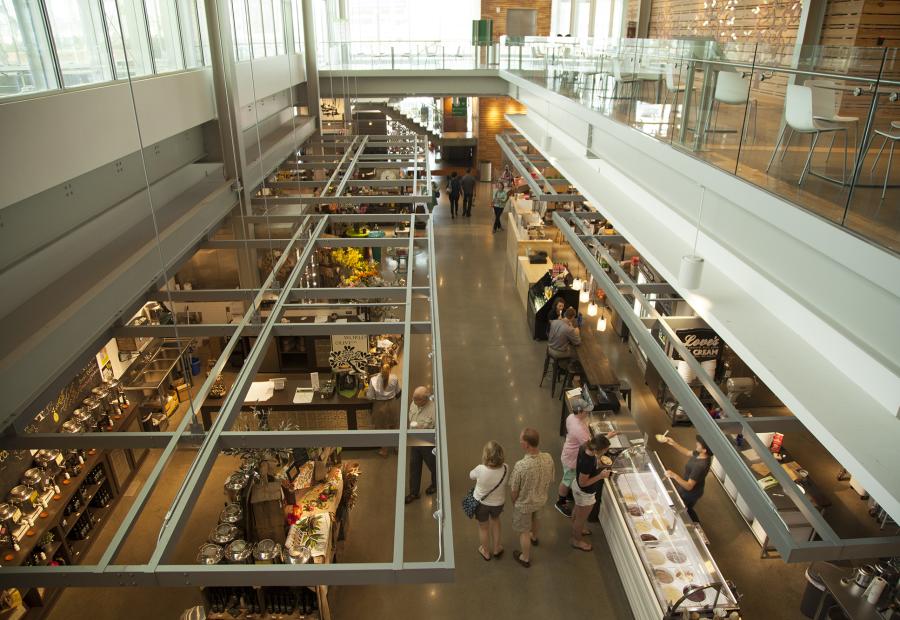 Downtown Market Grand Rapids
Bike from Donkey Taquería to Downtown Market Grand Rapids
(1.1 miles, about 8 minutes)
Downtown Market Grand Rapids
Modeled after open-air style European markets, the Downtown Market Grand Rapids brings a variety of culinary flavors under one roof. Try Social Kitchen and Bar for the family-style fries or Slows Bar B Q for barbecue by the pound. Field & Fire Bakery has fresh loaves and addicting samples, while the Sushi Market rolls out unbeatable lunch specials from noon until 3PM every day.
The second floor boasts extra seating options and a year-round greenhouse that can help chase away gray winter blues.
Bike from Downtown Market Grand Rapids to John Ball Zoo
(2.5 miles, about 14 minutes)
Finish at John Ball Zoo to complete the loop and pat yourself on the back for, as Hemingway would say, truly learning the contours and character of the city. And if this whets your appetite for more Grand Rapids area cycling, check out the biking page for the insider's guide to the best cycling the city has to offer.
Total mileage: 9.5 miles
Total bike time: approximately 1 hour and 8 minutes