A beautiful aspect of having more than 7,000 breweries in the United States is they exist in all kinds of settings: cities, towns, neighborhoods -- even suburbs.
One of those suburbs is Wyoming, just south of Grand Rapids, which is home to TwoGuys Brewing. The brewery opened in March 2018, and is an eclectic mix of fantastically brewed beer and a fresh mix of an ever-changing food menu.
TwoGuys Brewing owners Tom Payne and Amy Hamilton-Payne opened the operation within two buildings across the street from each other. The brewery, a seven-barrel brew system, is in a former firehouse and the taproom in a former 7-Eleven convenience store. Why Wyoming? Payne grew up just a few houses down from the brewery and still lives in the area with his wife, Hamilton-Payne, and their family.
While the coolers that once housed Coca-Cola are still there (but now housing kegs of beer), the brightly lit bar and seating arrangements at TwoGuys Brewing offers a cozy atmosphere designed to encourage neighbors to gather together.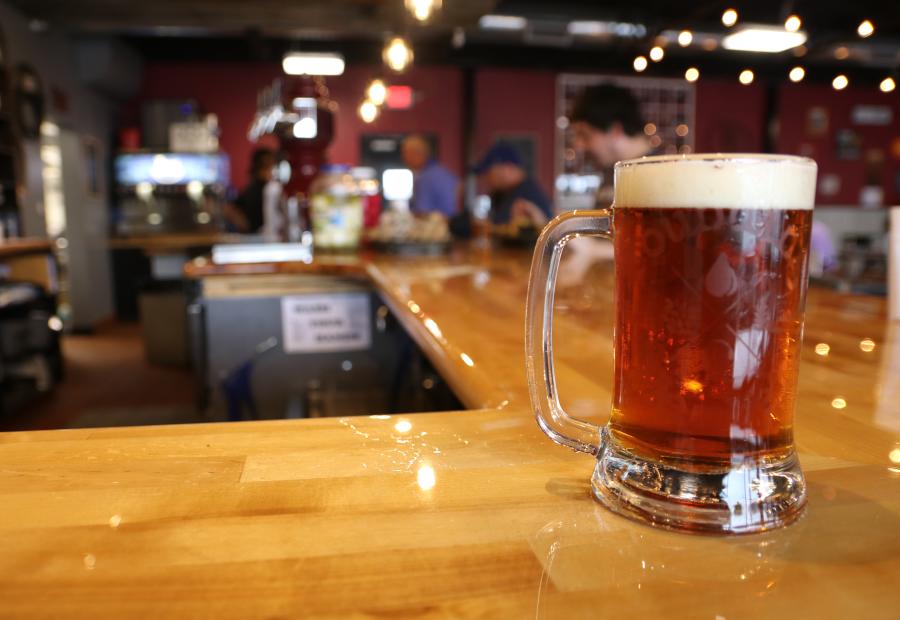 A mug of beer at TwoGuys Brewing
Photo by Experience Grand Rapids
On Tap
Payne has been a brewer in the Grand Rapids beer community for years and his experience shows through his own tap handles.
While the brewery's "core beers," such as BC Blonder Michigan, Porter St. Porter, TwoGuys IPA, and Engine83B Pale Ale are its most popular, Payne shines in his specialty beers.
In addition to its core beers, TwoGuys Brewing customers can expect unique beers like a range of single hop beers, which gives customers a different taste of hops. In the fall, Payne brewed two different harvest ales with fresh experimental hops from Great Lakes Hops.
Payne said he releases about two new beers a week, but the diversity and number of beers seem much greater than that.
Regardless of what beer is poured in the glass, it's evident Payne has mastered his craft (no pun intended), and is always ready to brew new, unique beers.
Also on the TwoGuys Brewing menu are wine, cider, and an inventive lineup of hard seltzer cocktails.
For craft brew enthusiasts looking to fill another page of their Beer City Brewsader® Passports, TwoGuys Brewing is within the Passport.
Download the free mobile app in the App Store or Google Play. After you visit eight participating breweries and collect eight stamps, you'll receive a free official Beer City Brewsader® T-shirt and will be on your way to becoming an Ultimate Brewsader.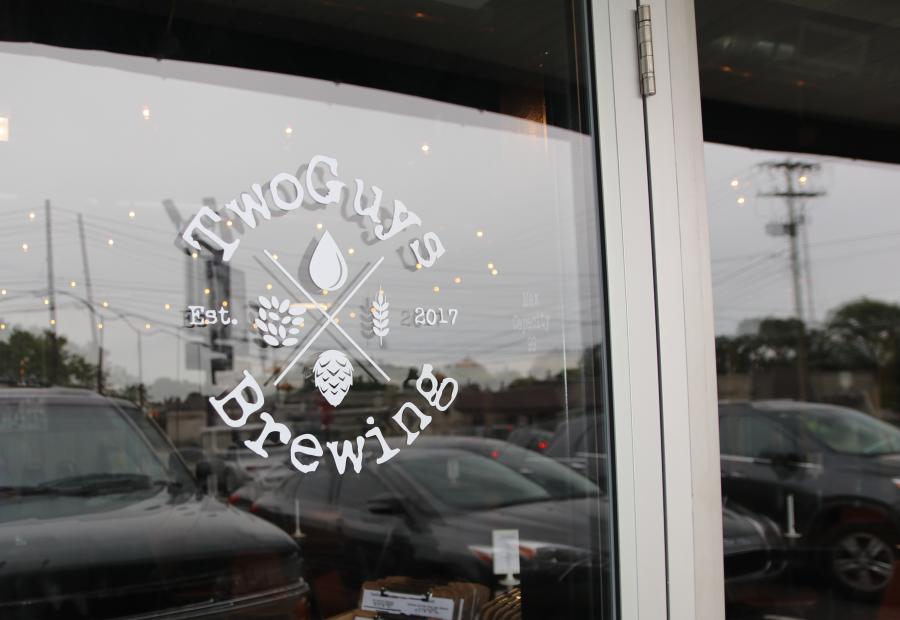 TwoGuys Brewing menu offers craft beer, wine, cider, and hard seltzer cocktails.
Photo by Experience Grand Rapids
Order Up!
TwoGuys Brewing's kitchen is helmed by head co-executive chefs Tom and Zoë Payne. Six months after its opening, the brewery switched up its food menu to keep menu items exciting and ever-changing.
The change of menus was partly due to seasonality, but also to keep customers interested by trying new dishes. With the change in menus, TwoGuys Brewing now offers more items than before, including sharables, tacos, sandwiches and baskets.
It's not like the kitchen needed to freshen up the menu, though, as it offers an array of specials every week. Keep in mind, the featured tacos change every day, and daily specials are offered such as Burger Mondays and TexMex Tuesday.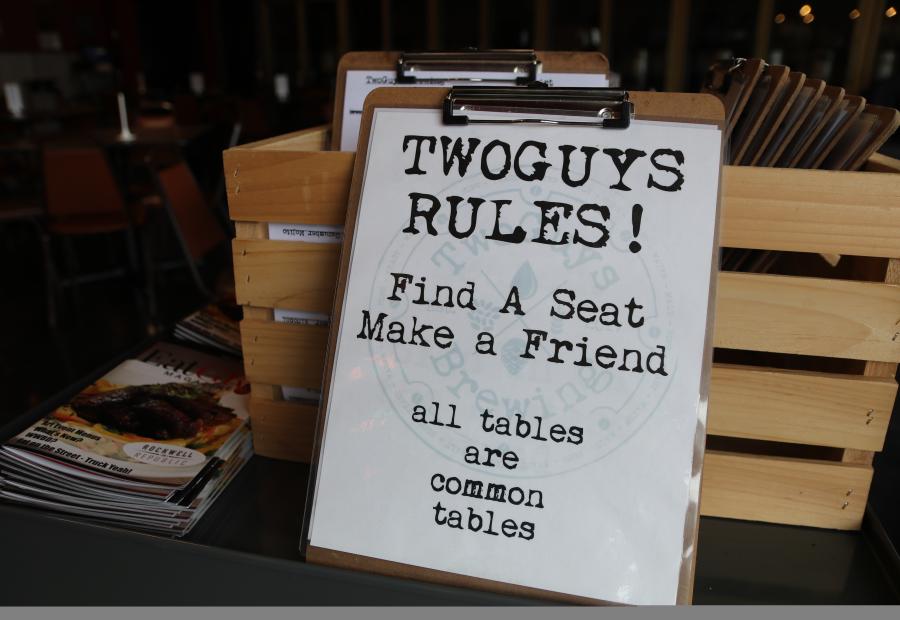 With seasonal menu changes, TwoGuys Brewing offers plenty of food options.
Photo by Experience Grand Rapids
Mug Club
Get an even greater "bang for your buck" by becoming a member of TwoGuys Brewing's Mug Club. For a $50 annual fee, Mug Club members will receive:
$0.50 off all pours
$1 off all pours on Mug Club Member Days
$1 off growler refills
$2 off growler refills on Mug Club Member Days
10% off food
10% off merchandise
Free ice cream float on your birthday
Mug Club memberships can be purchased at the brewery, and members must show their membership card to receive discounts.
For updates on TwoGuys Brewing's menu, specials, and beer offerings, visit its Facebook page.
TwoGuys Brewing was featured in episode two of Beer City Eats, a series that takes a look at the epic food scene in Grand Rapids' area breweries. Watch the video below to hear more of how owner Thomas Payne got his start and his passion for the craft of beer and food.