Not only does Grand Rapids have a plethora of breweries, but many of these breweries offer tasty meals to pair with their award-winning brews.
We asked locals what breweries they recommend for savory craft beer and food options, and here are the eight we heard the most about:
Brewery Vivant
Address: 925 Cherry St SE, Grand Rapids, MI 49506
Brewery Vivant has a lot to offer, such as a unique building that was once a funeral home, award-winning Belgian-inspired ales, mentions in Thrillist and Bon Appetit, and a desirable location nestled in the Cherry Hill area.
And, according to local's feedback, Brewery Vivant also has sought after-menu items.
What the fans say:
"Vivant has the best frites!" - @kaitlynvanharen on Instagram
"@breweryvivant because food is the most eclectic with the best flavor. Also plenty of different styles." - @jgalbert on Instagram
"Delicious and interesting food, sourced locally and sustainably. I'm always impressed with both their beer and their food; such care and innovation goes into both!" - @hxt104 on Instagram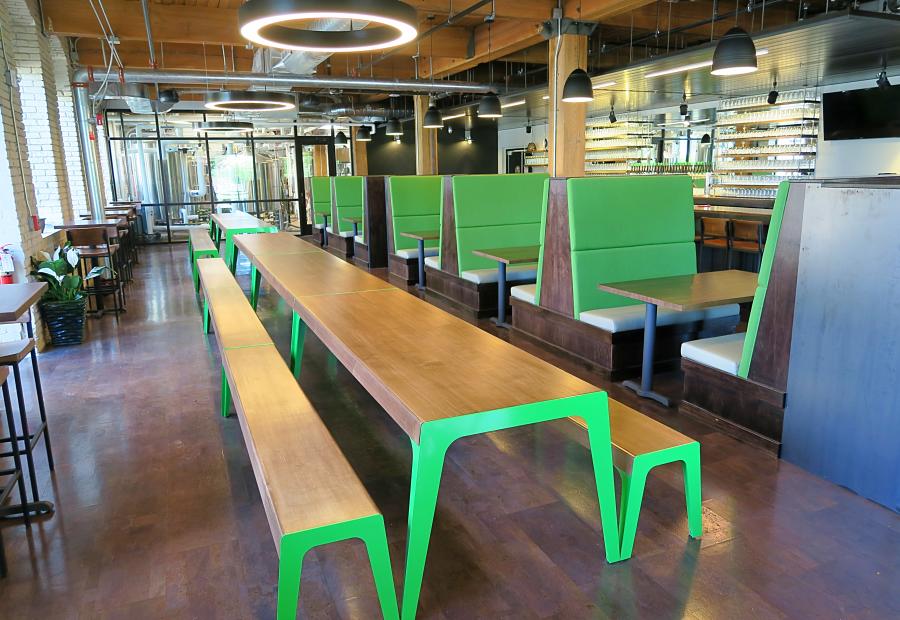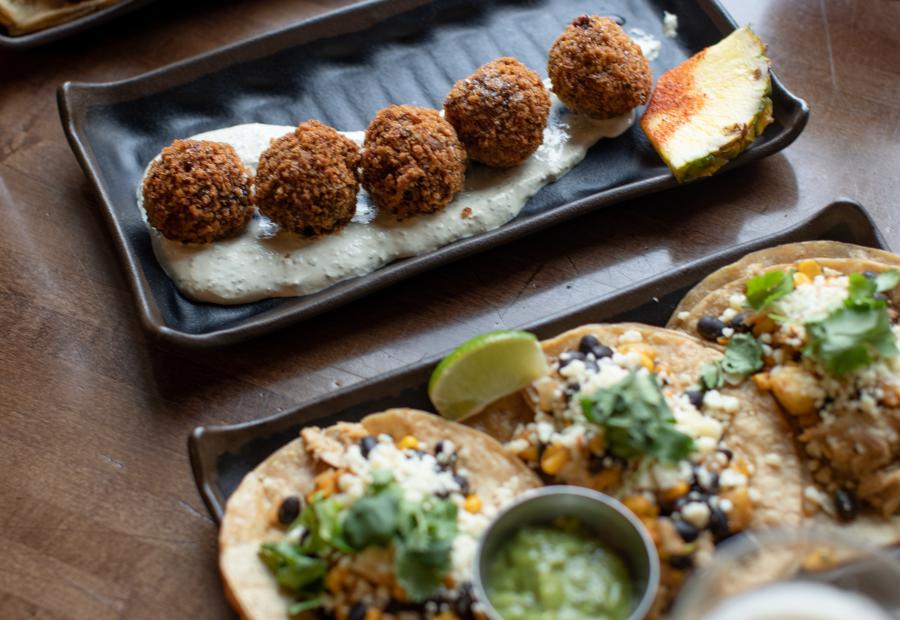 Make a new friend or two at City Built's large community tables.
Photo by Photo courtesy of Jason Ley
City Built Brewing Co.
Address: 820 Monroe Ave NW #155, Grand Rapids, MI 49503
Known for its unique Puerto Rican-inspired menu, City Built Brewing Co. is also a highly recommended dining-and-craft beer destination.
Located in Grand Rapids' bustling downtown, City Built Brewing also boasts an easily walkable location near the Grand River. City Built Brewing owners emphasize quality in the food, beer, and overall dining experience. 
What the fans say:
"@citybuilt has amazing Puerto Rican food! You just know you are eating fresh ingredients. My mouth waters just thinking about it!" - @jenadeh on Instagram
"@citybuilt 🙌🏻 Tacos and craft beer. What more needs said?" - @stewas87 on Instagram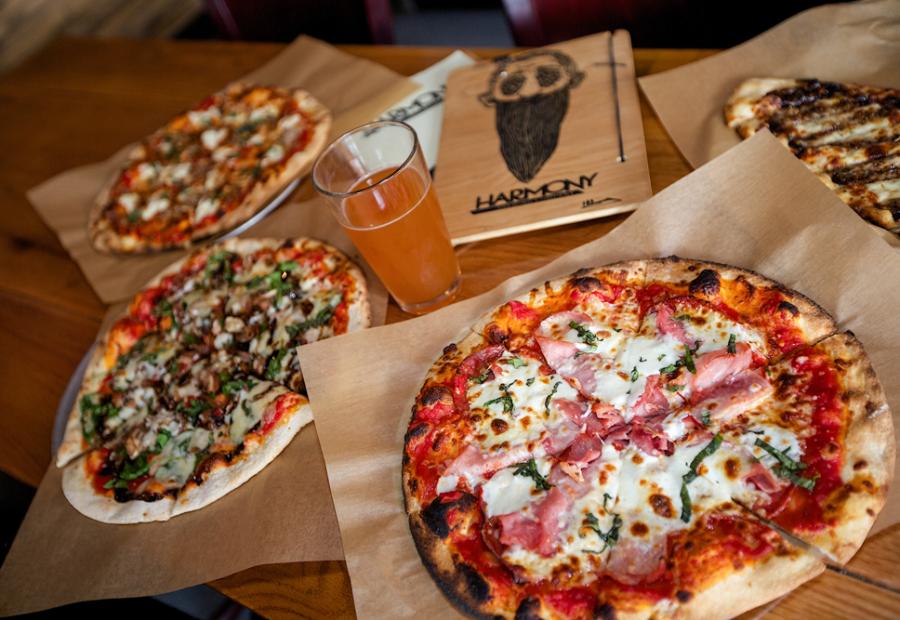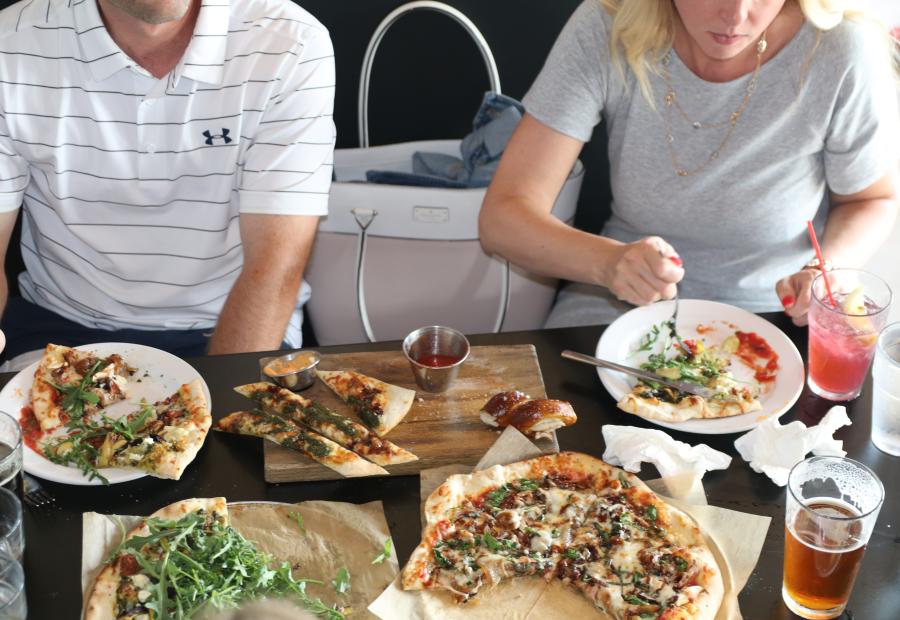 Pizza and Beer at Harmony Brewing
Photo by Experience Grand Rapids
Harmony Brewing Company & Harmony Hall
Harmony Brewing Address: 1551 Lake Dr SE, Grand Rapids, MI 49506
Harmony Hall Address: 401 Stocking Ave NW, Grand Rapids, MI 49504
With two locations in Grand Rapids, Harmony Brewing Company, located in Grand Rapids' Eastown area and Harmony Hall, located on the city's West Side, offer mouthwatering wood-fired pizzas and pub fare.
Harmony's pizza was voted Best Pizza in West Michigan by Revue readers for four straight years and it made MLive's list of Top 5 Pizzas in Michigan twice.
What the fans say:
"Fun bar food" - @healthforlifegr on Instagram
"Harmony Brewing Eastown, because pizza and beer. And OMG the pizza and OMG the beer!" - Chris Hager on Facebook
Pro Tip: Harmony Brewing Company offers craft beer and pizza delivery! Visit the brewery's website to place your order.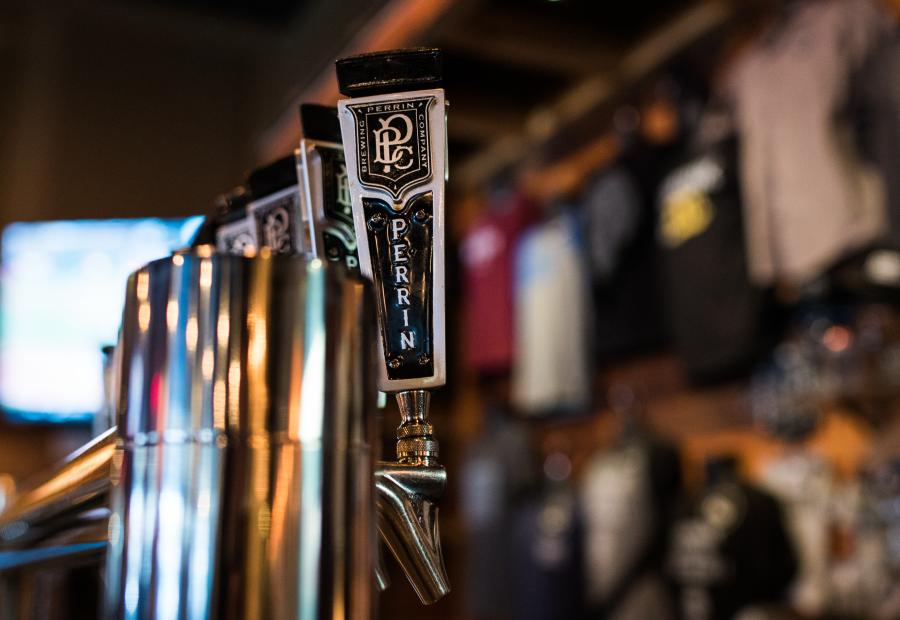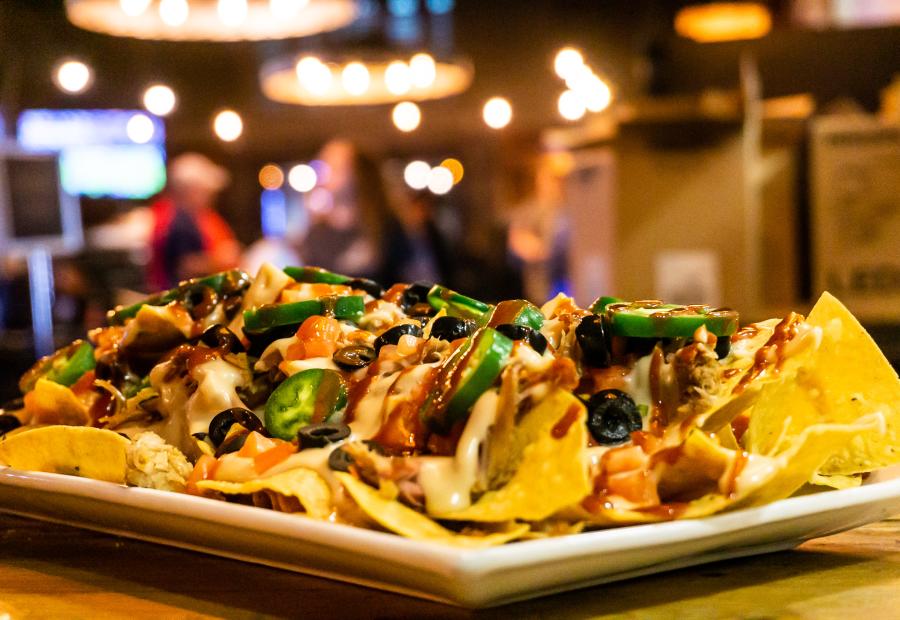 Perrin Brewing Co. has over 15 craft beers on tap and a full menu to suit your taste buds.
Photo by Experience Grand Rapids
Perrin Brewing Company
Address: 5910 Comstock Park Dr NW, Comstock Park, MI 49321
Located about 10 minutes north of downtown, Perrin Brewing Company is known for its burgers, shareables, and sandwiches.
What the fans say:
"I like the Black and [Bleu] burger at #perrinbrewery. Every time it's been cooked as ordered and I dip the home made potato chips in an extra side of siracha mayo." - @david.gau on Instagram
"@perrinbrewing has the best fried pickles I've ever eaten. And I consider myself an expert" - @rinkratt2908 on Instagram
TwoGuys Brewing
Address: 2356 Porter St SW, Wyoming, MI 49519
Located in Wyoming, TwoGuys Brewing is a "must visit" for craft beer and food enthusiasts due to its decadent food, dessert, and craft beer selections.
What the fans say:
"Two Guys Brewing has amazing food with combinations I'd never think of but taste so great! I can't decide if their pork shoulder sandwich or the Beer Garden Sandwich is my favorite! And the coconut lime wine is addicting!" - Becky Kramer on Facebook
"The deviled scotch eggs at Two Guys brewing are awesome and unique. Their menu is surprising in a good way." - @eatgr1 on Instagram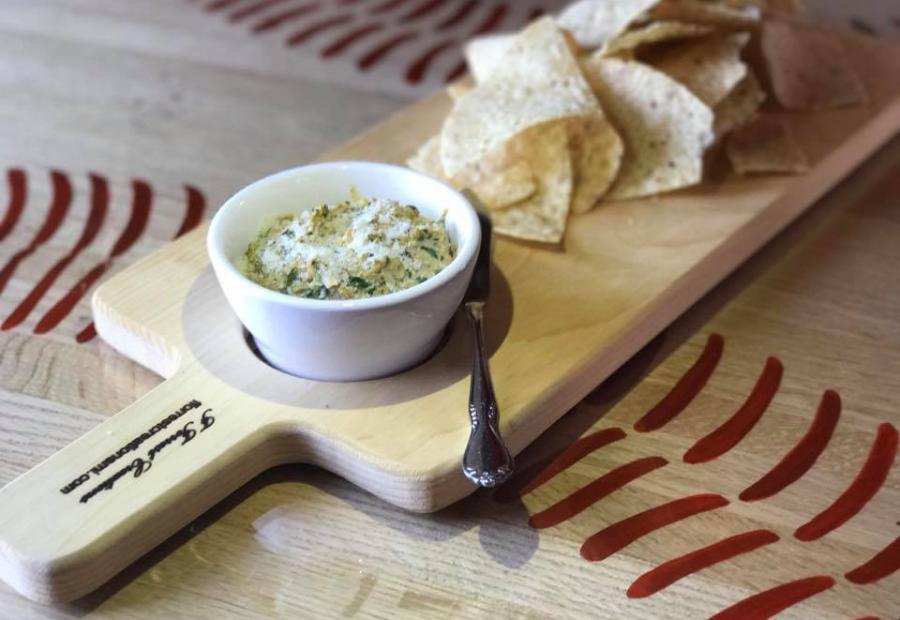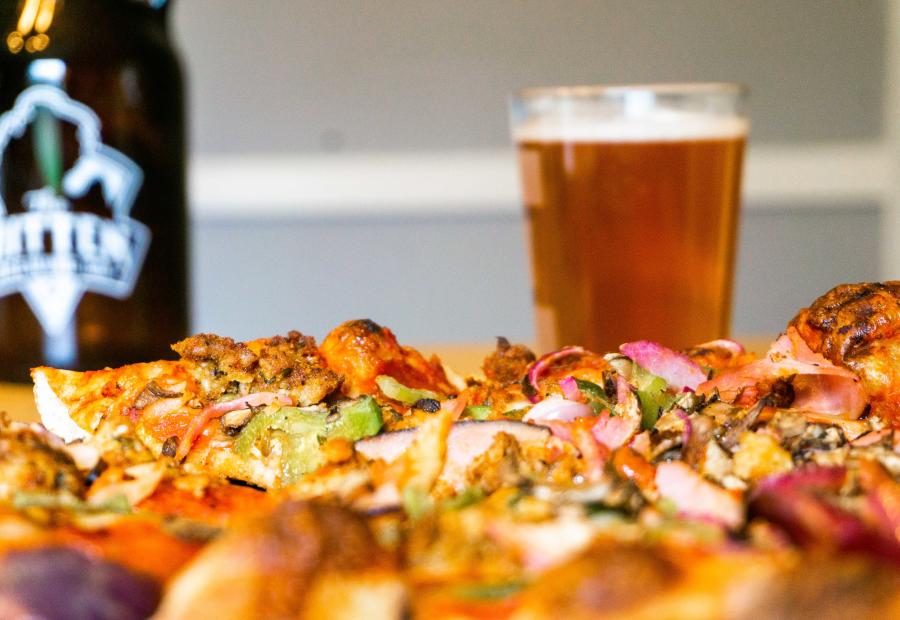 The Mitten Brewing Company is serving up pizza, appetizers, and more on its vegan menu.
Photo by Photo courtesy of Kolene Allen - Vegan Grand Rapids.
Mitten Brewing Company
Address: 527 Leonard St NW, Grand Rapids, MI 49504
Baseball fans, history buffs, and pizza lovers can all unite at the Mitten Brewing Company. Since opening in 2012, the Mitten Brewing Co. has continued to evolve its menu and specials. Known for its pizzas and sandwiches, the Mitten Brewing Co. even offers a pizza flight that includes six different specialty pizzas.
The brewery also caters to a variety of dietary restrictions.
What the fans say:
"@mittenbrewingco for the pizza flight but my favorite overall pizza is the Heater 🌶️."- @chowdown_grandrapids on Instagram
Founders Brewing Company
Address: 235 Grandville Ave SW, Grand Rapids, MI 49503
Founders Brewing Company takes simple sandwiches and makes them unrecognizable with the addition to of top-quality breads, meats, artisan cheeses, house-made sauces, and fresh vegetables, all of which, complement the brewery's award-winning craft beer.
What the fans say:
"@founders brewing for a good sandwich" - @chowdown_grandrapids on Instagram

"I love trusty ole @foundersbrewing" - @mharring12 on Instagram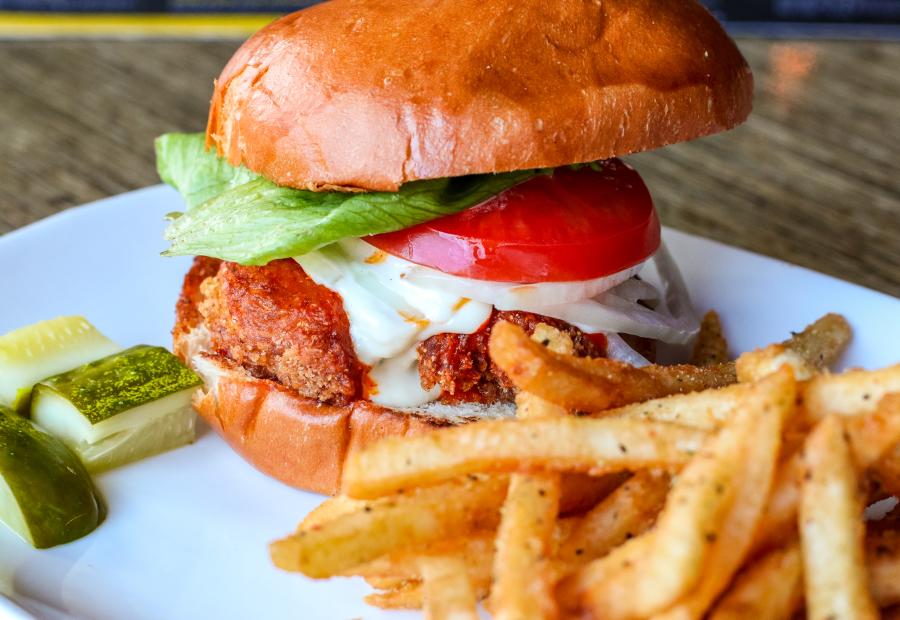 Pair one of HopCat's many craft beers with its fan-favorited "cosmik fries."
Photo by Experience Grand Rapids
HopCat
Address: 25 Ionia Ave SW, Grand Rapids, MI 49503
HopCat's flagship location in downtown Grand Rapids boasts its home-brewed craft beer, plus a great selection of local, national, and international drafts and bottles. The brewery has opened a second Grand Rapids location on Beltline Avenue, NE.
HopCat's most popular menu item includes its cosmik fries, which is a combination of fries with special seasoning, plus you have the option to make them "fully loaded," which includes bacon, jalapenos, and queso.
What the fans say:
"@hopcatgr for just about anything.... "- @chowdown_grand rapids on Instagram
Note: HopCat Grand Rapids is no longer a brewery and therefore does not count for a Brewsader checkin... but they are still a great place to explore our beer scene!
Menus may change without notice. Visit brewery web pages for their latest food offerings, and check our brewery and restaurant pages for a full list of food and drink options in Grand Rapids. Be sure to check in by using the Beer City Brewsader app when you visit these breweries.
All eight of these locations are featured in our Beer City Eats video series – click on over for a brief introduction to the people and ideas behind the awesome menus.
This was originally written by Lyndsay Daly and has been updated by Experience Grand Rapids.