I've been to plenty of concerts in plenty of venues in my time – everything from student unions to professional sports stadiums. And while they were all great performances, I've never had a musical experience like I did when I attended a show at the Listening Room, on the second floor of Studio Park in downtown Grand Rapids.
From start to finish, seeing a concert at the Listening Room is a great way to spend an evening. I took advantage of the well-lit and clean Studio Park garage and was at the show in no time. (When you Shazam the song you hear in the hallway while walking to the elevator, you know it's going to be a good night.)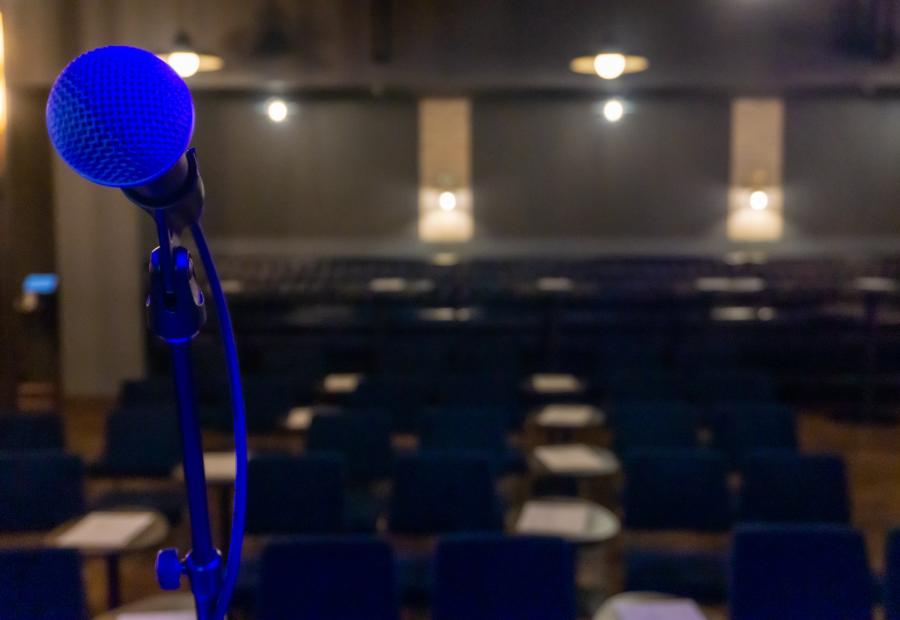 The Listening Room was designed to have a cozy and intimate candle lit vibe.
Photo by Brian Craig for Experience Grand Rapids
With only 200 seats, calling this venue intimate seems like an understatement. The addition of a full-service bar and appetizers served to guests as they enjoy the concert makes it a location I definitely plan to frequent again.
Listening Room General Manager and Talent Buyer Quinn Mathews says they wanted Listening Room to feel dark, cozy, and intimate, with a candlelit vibe. "We want the listeners to feel comfortable throughout the show. We want you to be able to get drinks and relax and take in a show after a long day of work."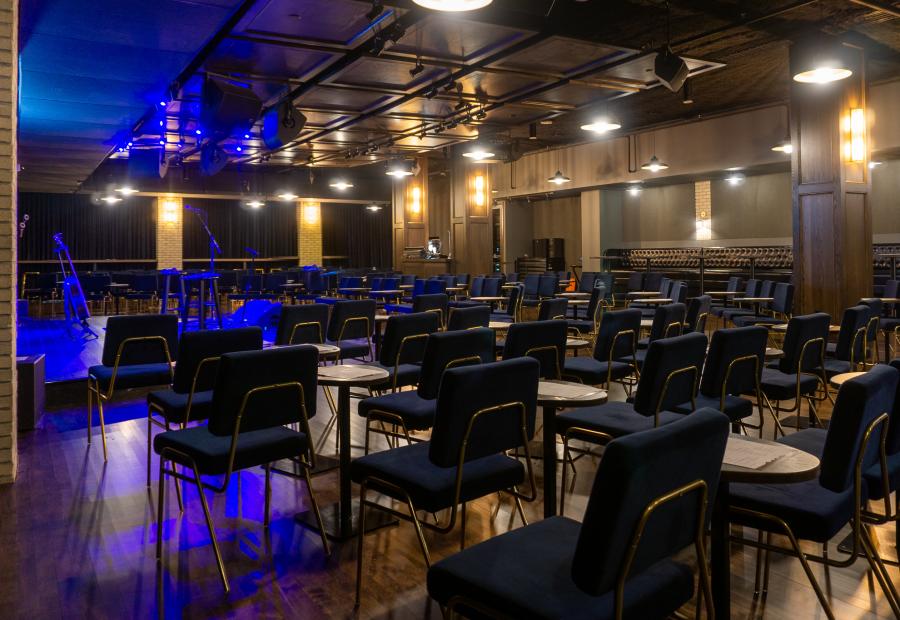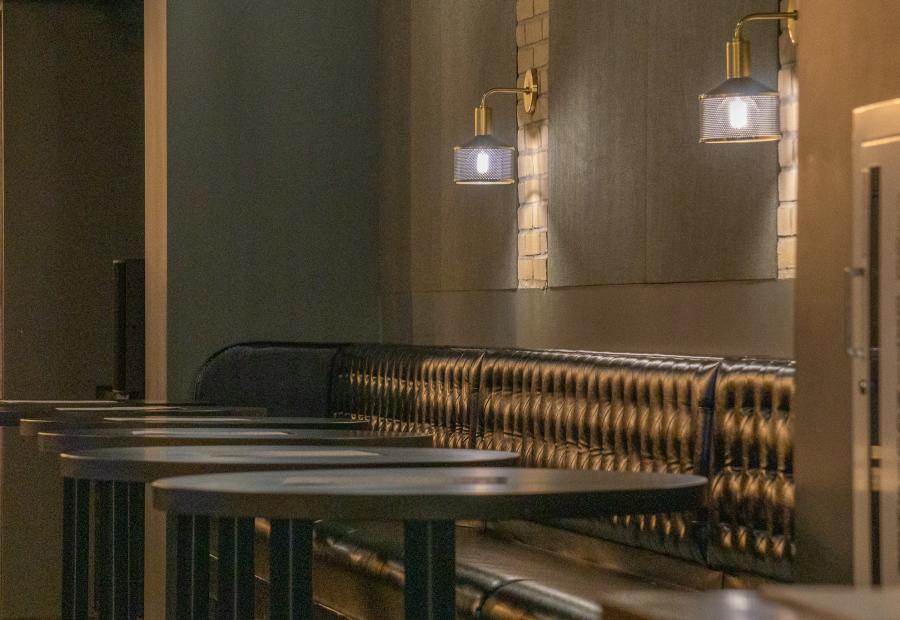 The Listening Room features seating wrapping 180 degrees around the stage with booths and high tops along the walls.
Photo by Brian Craig for Experience Grand Rapids
When designing the room, musicians and music fans were forefront. Seating flanks the semi-circle stage 180 degrees from one side to the other, including booth and high top seating along the walls. Seventeen well-placed speakers throughout the room allow the sound to travel to the back of the room without blasting speakers near the stage. 
The floor features comfortable chairs with plenty of legroom and cocktail tables ready for your drink or food. The bar features wine, liquor, craft cocktails, and beer at very reasonable prices, which is refreshing in more ways than one!
The space itself is small enough to feel comfortable and big enough to feel like a performance venue. Even without assigned seating, I found a seat easily and Listening Room servers promptly asked if I needed anything.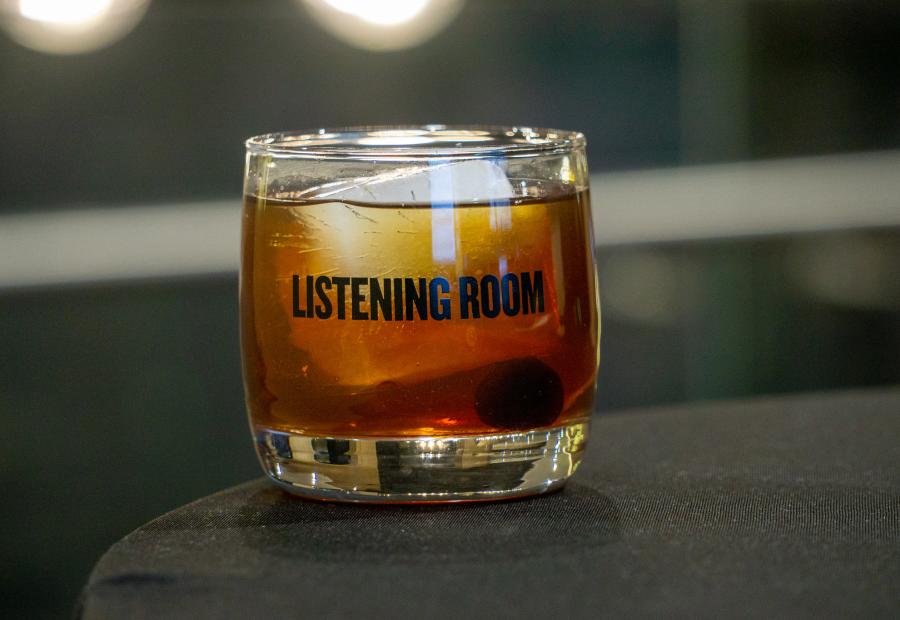 Order drinks and food during the show by raising your hand. The waitstaff will come to you!
Photo by Brian Craig for Experience Grand Rapids
What really sets Listening Room apart, though, is what happens after the lights go down. Attendees are expected to, well, listen. With performers only five feet away in some seats, sitting and simply listening is the mantra. Raise your hand during the show and the wait staff will come to you, allowing everyone to enjoy the artists. 
With a goal of 20 concerts a month, there will be plenty of shows to attend. Mathews says he wants to make sure there is a good mixture of local, regional, and national talent performing often at Listening Room. 
"We have an incredible music scene here in Michigan, and I partner with local organizations and artists often to perform, which you can see monthly with showcases such as Songtellers Sessions and Michigan Music Mondays with Local Spins," he says.
I attended the first hip-hop show at the Listening Room, featuring Grand Rapids' own Waldo with Rebel Kuzco & Bedrock, and it did not disappoint. Watching them work the stage and the audience from such a great vantage point added to the energy of their music. And while at most Listening Room shows the audience is expected to sit, the crowd couldn't resist when Rebel Kuzco requested everyone to get on their feet, myself included!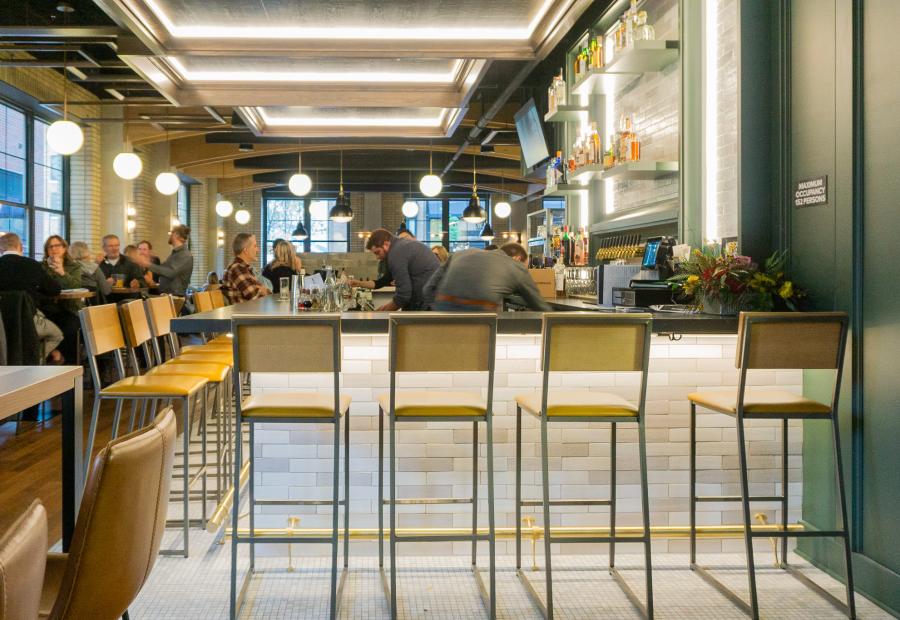 Head to dinner before the show - or grab drinks after - at One Twenty Three in Studio Park.
Photo by Brian Craig for Experience Grand Rapids
Most shows end around 10:30, proving plenty of time to grab a drink or a bite nearby. A great option right inside Studio Park is One Twenty Three located on the first floor. The New American tavern offers new takes on comfort food classics like crab cakes, Shrimp N' Grits, meatloaf, and many vegetarian choices as well. 
If you'd like to move your legs after sitting, I suggest a short stroll to Wheelhouse Kitchen & Cocktails or Hopcat to finish your evening.
Keep an eye on the schedule for Listening Room as Mathews adds new shows often with a diverse mix of folk, rock, jazz, world music, and everything in between. "Many of the artists we book play in much bigger venues in larger markets like Detroit or Chicago and we are able to land them on a travel day between sometimes to play in this intimate space," he says.
Whether you're interested in seeing your favorite band or discovering a new favorite, take in a concert at Listening Room. You are in for a great evening.
Cover photo features a performance of Molly.